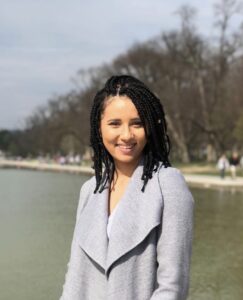 Christelle Silue, MSW Candidate
Practicum Provider and Clinical Assistant
Out of network Rate: $50/55 min session
I identify as an immigrant, Black, cisgender woman who immigrated to the US from the Ivory Coast, at a young age. I understand firsthand the feeling of not completely belonging as well as the freedom that comes from starting a lifelong journey of healing. With over a decade of social justice-related experience, I am passionate about working with BIPOC folks to unpack their racial trauma. 
As a person that continues to do the work to live as my most organic self while affirming who I desire to be in a world of isms; I personally love to do the work of discovering liberation with clients in session. I am skilled at working with people who are experiencing trauma, anxiety, cultural shock, and people immigrating to a new country. I am skilled at helping people who are going through life changes such as starting college or grad school. 
Therapy with me looks like me working alongside you and asking a lot of questions so I can develop a true understanding of your reality. I might challenge your current navigation of the issues you are experiencing by reframing your narrative, and asking you to participate in different exercises to explore and encourage potential perspective shifts. 
My therapeutic approach includes many modalities, client-centered, internalized-oppression focused, narrative therapy, and multicultural systems. I believe that the messages and attention you receive during your childhood and from the world around you impacts your perceptions and beliefs about yourself as an adult. 
Taking the leap to start therapy is important and can be daunting. I applaud you for wanting to start this journey. I am eager to support you and help you explore who you are, who you want to be, and how you operate in the world. I will work alongside you while using a healing justice framework and a holistic approach.
I have a bachelor degree in Public Health from the University of Washington. I am currently completing my Master's of Social Work at the University of Washington and will be graduating in June 2023. I hope to meet you and help you meet your goals.