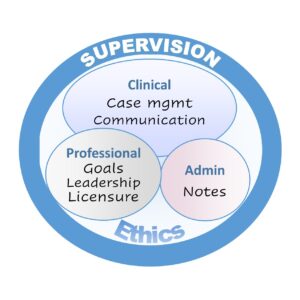 The purpose of Supervision is to provide newer therapists/Social Workers a place to process their professional experiences, as well as get guidance on clinical tools and ethics.
I am currently approved in the State of Washington to provide supervision to Associates pursuing full licensure (for example, LSWAIC going for LICSW).
I have a background in Medical Social Work, and am now in Private Practice working with adults. I have been able to provide support with newer Mental Health Professionals who are in Private Practice, Community agencies as well as in Medical Systems.
In order to make sure that I would be the appropriate person for you, I like to start all relationships with a 20 minute conversation to talk about your goals and ideal areas of growth to make sure that my skill set aligns with your needs.
I offer sliding scale for supervision. Cost for individual sessions range from $60 to $120 per 50 minute session. Group sessions range from $25 to $75, depending on the number of people.
Please contact me if you are interested in individual or group Supervision/Consultation: sima@simamsw.com